2020 marked the 100th anniversary of Denver Metro BOMA, the oldest commercial real estate association  in the Denver area. It is one of the largest membership associations in the region representing over 90,000,000 square feet, nearly 80 percent, of Denver's commercial real estate. BOMA provides information, advocacy and educational programs to building owners, managers, developers, leasing professionals, corporate facility managers, asset managers, and the providers of the products and services needed to operate commercial properties.
   Many of the buildings people know well today looked vastly different in the early 20th century.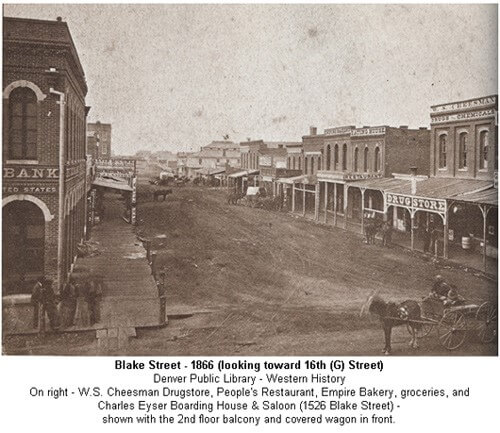 When Union Station first opened in 1881, it was a depot for more than 80 trains a day carrying families, merchants, laborers and business leaders into and out of Denver. It was also the largest building in Denver. Following World War II, railroads gave way to cars, trucks and airplanes and Union Station often stood empty save for a few passengers awaiting the Amtrak train.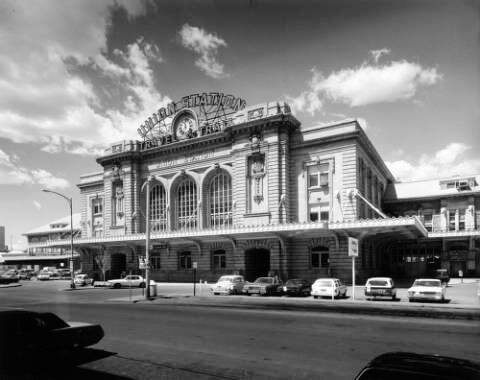 Today, Union Station is the main railway station, central transportation hub and the headquarters of Denver's FasTracks light rail station. It is also a great place to dine, shop, and experience the flavor of Denver old and new.
Denver Metro BOMA Through the Decades
The Denver Association of Building Owners and Managers was formed in affiliation with the National Association of Building Owners and Managers (NABOM). NABOM evolved into BOMA International and the Denver local chapter was renamed the Denver Metro Building Owners and Managers Association.
First Executive was Andy Konersman (1933 – 1971). It was a volunteer position. 
Palmer Burch was BOMA President (1938/1939 and 1954) He was elected to the House of Representatives and was active in providing legislative updates to the BOMA membership.
Window air cooling units were installed in Denver's commercial buildings. Tenants could leave the units on all night to cool their rooms and offices.
Central air systems were beginning to be installed. Building windows were made inoperable to keep the temperature constant within the buildings.
Prior to the depression, most of the buildings were owner-managed. Due to the geographic and transportation challenges, third party management started to become more common. The Institute for Real Estate Managers (IREM) created the Accredited Management Organization to aid institutional investors looking for a managing agent. Van Schaack and Fredrick Ross were the BIG management players at that time.
Early Denver BOMA was a "good ole boys club" with no women allowed. Today, BOMA is proud to say that six of the last ten BOMA Presidents have been women. The Denver Metro BOMA membership base also shows women in the majority. 
Monthly meetings were held on the 26th floor of the First National Bank Building at 17th and Welton.
Members placed BOMA stickers at their entrances designating them as BOMA Member Buildings.
The first "paid" executive was a retired Air Force Lt. General.
Allied members were included as members of BOMA for the first time and they were called "Supplier" members.
First Trade Show held at the Petroleum Building. Twelve Suppliers exhibited with only seven attendees.
Denver Metro BOMA hosted the BOMA National Convention in 1972 with over 1,200 attendees.
"BOMettes" were established as women began to join BOMA. They wore member vests to distinguish themselves.
BOMI Institute and CU kicked off the first Real Property Administrator (RPA) class in Denver. (Previously ARP)
Movie "Towering Inferno" created concern over the fire safety needs of high rise office buildings. Building codes were discussed at the State Legislature. Members originally required that any buildings over 75 feet have automatic sprinkler systems installed. After things settled down with the State and City code makers, older buildings were "Grandfathered" and did not have to convert.
First woman executive was Sally Stern who became an active Allied member.
BOMA sponsored a horse for the Denver Mounted Patrol. The horse was called BOMA and his name was emblazened in bright yellow letters on a blue background.
First Member of the Year Award was presented to Ron Simpson, former President of both Denver BOMA and BOMA International, as well as chair of the BOMI Institute.
First female President, Bonnie Emge, with Fuller, was elected in 1987.
The Americans with Disabilities Act (ADA) was passed and signed into law by President George H.W. Bush on July 26, 1990. BOMA International immediately created the ADA Guidebook and the subsequent tenant guidebook, "Opening Doors" to help owners and managers comply with the new law.
Denver Metro BOMA's membership and influence in the community increased significantly.
In 1999, the first Denver building, 555 17th Street (then known as Qwest Tower), won the BOMA International TOBY (The Outstanding Building of the Year) Award in the category of office buildings between 500,000 and one million SF.
Following 9/11, Denver Metro BOMA, BOMA International, and its industry partners teamed up to form the Real Estate Information Sharing and Analysis Center (REISAC), which provides bulletins on terrorist threats and related activities.
In June of 2003, Denver BOMA, along with the FBI, Denver and surrounding cities' police, SWAT, OEM, fire, hazmat, EMS, the Red Cross and other first responders, held a disaster exercise in Republic Plaza with over 140 members as volunteer "victims."
BOMA Denver was removed from the BOMA International South West Region and placed in the Midwest Northern Region since Denver had more in common with the cities in that region.
In 2007 BOMA International introduced the 7-Point Challenge to incentivize voluntary efforts to reduce use of natural resources, non-renewable energy sources, and waste production among  commercial real estate companies.
Denver Metro BOMA, along with several partners, established the Watts to Water program, a metro-wide sustainability program dedicated to the reduction of energy and water consumption.
In 2008, building managers and owners played an integral role in preparedness for, and communications with, emergency first responders for the Democratic National convention held in Denver.
Denver Metro BOMA hired a local public affairs firm and began aggressively advocating on behalf of building owners rights within the City of Denver and other surrounding jurisdictions.
BOMA Denver created the Emerging Professionals Committee to address the needs of newer professionals in the Commercial Real Estate industry.
The MOB (Medical Office Building) Special Interest Group (SIG) was formed to meet the increasing needs of owners and managers of these buildings.
The Denver area economy started to recover from the economic downturn. The office market began a robust expansion with steadily declining vacancy rates, solid net absorption, and a well-planned development pipeline.
BOMA Denver partnered with the Denver City Energy Project by offering discounted education in sustainability to encourage benchmarking energy use.
Denver Metro BOMA saved building owners millions of dollars through regular monitoring and intervention in utility related cases before the Colorado Public Utilities Commission (PUC).
Denver's commercial real estate property managers faced insurmountable challenges as the world faced the global COVID-19 pandemic. Through Denver Metro BOMA's legislative advocacy, language was added to state emergency ordinances that allowed buildings to remain operational by declaring building operators part of the essential workforce.  
Denver Metro BOMA was at the forefront of working with policymakers on GHG reductions. The CRE industry is the target for policy from every local government and the state. Through its collation building, BOMA made some strides to ensure policymakers understood there is no one-size-fits-all answer and that it cannot be achieved at any cost.