What is Speed Networking?
Speed networking is like speed dating for professionals. It evolved from the speed dating model of meeting a lot of people in a short amount of time. It is a structured process for facilitating introductions and conversation between people who don't know each other.  At Denver Metro BOMA's fun and interactive event, you will have two minutes of face-time with multiple Principal members. Meeting new people and building relationships is a surefire way of ensuring that your business will continue to grow! Exhibitors must be BOMA members to participate.
You have two minutes to make your pitch and form a new connection with your group of Principal BOMA members. No need to make a "hard sell" in this format. The event is all about first impressions with quick & concise introductions.
1.     30 Second: Elevator pitch.
2.     One (1) Minute: Meet & greet with the group
a.     Promotional & marketing handouts.
b.     If you're raffling off prizes, this is the time to collect those business cards!
c·     Please let the BOMA staff know who the winner is and the prize. The speed networking committee co-chairs will announce the winners.
d.     Get to know your Principal members.
3.      30 Second: Wrap up & follow up - When you hear the bell, attendees will rotate to next table.
a.     Wrap up the conversation and prepare for the next group.
b.     If any guests from the group deserve additional time:
-Secure a follow up call or email.
-Ask to speak directly after the networking session ends.
Registration for the 2022 Speed Networking Event will open early spring of next year!
Golf tournaments are a great way to network and grow your connections in the commercial real estate community. Participate individually in Denver Metro BOMA's most popular event or gain exposure as a sponsor. Enjoy networking and camaraderie with fellow industry professionals while playing a great game of golf! Luncheon to follow.
The Sporting Clay Event is Denver Metro BOMA's newest event!  Held at Kiowa Creek Sporting Club in Bennett, CO, this event brings a wide array of BOMA members together for a day out on the range. Whether you shoot or not, there's an opportunity for you to get involved, have some fun, and make some new connections! We hope to see you there.
Mile High Awards Celebration
BOMA TOBY & Mile High Awards
Denver Metro BOMA is pleased to present the 2022 Mile High Awards Celebration  on November 18th at the Denver Museum of Nature and Science.
What are the The Outstanding Building of The Year (TOBY) Awards?
The Outstanding Building of the Year (TOBY) Awards are the most prestigious and comprehensive programs of their kind in the commercial real estate industry recognizing quality in buildings and rewarding excellence in building management.
During the competitions, all facets of a building's operations are thoroughly evaluated. Buildings are judged on everything from community involvement and site management to environmental and "green" policies and procedures.
Information to nominate your building for a TOBY to be posted soon! In the interim, you can contact LeighL@bomadenver.org for more information. 
Why do building owners and property managers enter the TOBY competition?
Everyone who enters the TOBY competition is a winner—not only the buildings, but the management teams as well.
At each of three levels—local, regional and international—winners are recognized by their peers and throughout the commercial real estate industry.
All entered buildings receive publicity while winners will get special recognition in the press, through the BOMA organization and in the industry.
Building owners will know that their properties meet the highest commercial real estate industry standards.
Each building will receive a free comprehensive review as well as constructive feedback from the judging team.
The Benefits to Owners of Winning a TOBY Award:
Winners will receive local and national press coverage, recognition in trade publications, business journals and newspapers.
Winners will have an outstanding leasing message for prospective tenants and renewals.
Tenants will share the pride in their building being selected The Outstanding Building of the Year.
Winners will get recognized at local, regional and international levels.
Winners will garner recognition for their building from other industry professionals.
Judging Guidelines and Forms
| | |
| --- | --- |
| Corporate Facility | Retail |
| Earth | Suburban Office Park (Low-Rise) |
| Historical Building | Suburban Office Park (Mid-Rise) |
| Industrial Office Building | Under 100,000 Square Feet |
| Medical Office Building | 100,000-249,999 Square Feet |
| Mixed-Use | 250,000-499,999 Square Feet |
| Public Assembly | 500,000 – 1 Million Square Feet |
| Renovated Building | Over 1 Million Square Feet |
Additionally, BOMA has invested in making quality improvements to the TOBY portal and has extended its use to the local BOMA associations with the ability to judge submissions online. These improvements have resulted in ensuring that locals have the tools to streamline the process and uphold the integrity of the program. In order to maintain the quality of the program and continue to make improvements, the fees have been increased. This is the first program increase in over 10 years.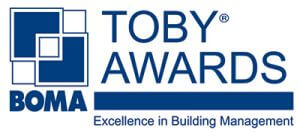 Local submission fee (admin fee): BOMA International $50.00, Denver Metro BOMA $200
Regional submission fee: $325.00*
*Plus any other fees designated by the region.

LEVELS OF COMPETITION
There are three levels to the competition: Local, Regional and International. Buildings must complete and win at the local and then regional level to qualify for the International competition. TOBY International Awards are presented at the BOMA International Conference every June.
Community Affairs Committee
BOMA Community Affairs Committee
The BOMA Community Affairs Community (CAC) is an energetic and passionate group of Associate and Principal Members that have a passion for helping others in the Denver Metro area for over 20 years.
The CAC meets monthly (except monthly on the First Tuesday from 3:30pm to 4:30pm) to determine local non-profits and various opportunities to aid and support the Denver Metro community.  Please contact the BOMA Office or email info@bomadenver.org to be added to the Zoom meeting invite.
The BOMA CAC is dedicated to serving the Denver Metro Community and is always interested in learning about new organizations that could benefit from the assistance of BOMA Members. Below is a link to a recent presentation by Sarah's Home.
Click here to see the Sarah's Home presentation!

Spring Work Day
The Spring Work Day alternates serving Denver Children's Home and Mount Saint Vincent's Home and will takes place early June. If you would like more information or if you are interested in volunteering please contact info@bomadenver.org.
BOMA Annual Gift & Toy Drive
The BOMA Gift and Toy Drive occurs annually between End of October through Mid-December and works with hundreds of buildings to collect toys and other items on behalf of  a dozen different charities. Help make the holiday season brighter for thousands of children and adults by assisting in one of a few ways.
Listing of Denver Local Charities BOMA serves: 
Beacon Place
Center for Work Education and Employment (CWEE)
Denver Children's Advocacy Center
Denver Children's Home
Father Woody's
Gateway Domestic Violence Services
Jeffco Action Center
Mount Saint Vincent
Mountain States Children's Home
Safehouse Denver
Sarah's Home
The Delores Project
Third Way Center
Visiting Nurse Association
Testimonials:
"We appreciate all that you have given. At the darkest time of our lives, you give us light and hope. Thank you."  ~J.M., Recipient, Denver Children's Advocacy Center
"Thank you so much. You have been such a blessing to me and my family."
~T.J., Recipient, Denver Children's Advocacy Center
"Words cannot express how thankful and blessed I feel right now.  Thank you for making this Christmas possible for me and my family!' ~Y.A., Recipient, CWEE
"Your giving hearts have truly made this past Christmas a very special one for the kids in our care…we are so humbly grateful." ~Britnie Corbett, Mountain States Children's Home
"As a community comes together to rally around survivors and lift them up, every single gift from each individual donor makes more of a difference than you'll ever know." ~Victoria McVicker, CEO, Safehouse Denver
"Holidays are difficult time for the children at Mount Saint Vincent. To see their happiness with their gifts, food, treats and outings is amazing!  We could not give this experience without friends like you." ~Cindy Liverance, Director of Development, Mount Saint Vincent
Please contact info@bomadenver.org to volunteer on the BOMA Community Affairs Committee.